St. Louis, MO (March 11, 2015)  – Well-known horse trainer and animal behaviorist Sue De Laurentis has teamed up with Manna Pro, an equine health care company, in a "Train with Trust" video series that teaches horse owners how to responsibly use treats as a training tool. De Laurentis uses her signature training approach to focus on essential behaviors, including stretching exercises for better performance, crossing obstacles on a trail, and teaching your horse to come when called.
"Treats are an important part of training and can be highly motivational to a horse. If used correctly, treats can really spark a horse's desire to learn," said De Laurentis. "My goal is to show horse owners how to get great results AND preserve your horse's good manners."
In the videos, De Laurentis demonstrates how to use a diminishing rewards system to obtain the desired behaviors in the horse. "At first, we reward generously to keep her eager and engaged. Then we progress to verbal praise and stroking," she said, adding that treats are then offered at random times to keep the horse interested.
"I've used Manna Pro Horse Treats in my training programs for many years, and I'm impressed with how quickly and effectively they can be used to teach horses new behaviors," said De Laurentis. She said she likes the small pocket-sized treats, as they are easier to handle.
Manna Pro's Carolyn Adams, senior brand manager, says the company is thrilled to be featuring De Laurentis in the training videos. "Sue offers great solutions on how to build trust with your horse and how to quickly teach new behaviors using treats. Whether you happen to be a trail rider, competitor, or breeder, the lessons provided in this new video series are beneficial for any horse owner," she said.
Adams added that Manna Pro stresses the importance of responsibly using treats in horse training.  "Over-use of treats can result in bad behaviors so the methods we outline in the videos show how to use them responsibly," she said. "The focus is on rewarding progress and reinforcing correct behavior."
The new series includes four videos, with an additional three to be released at a later date, and appeals to riders of all disciplines. The videos are available to horse owners for free with the purchase of Manna Pro Wafers or Bite-Size Nuggets.   Manna Pro is also offering $7.00 in coupons for these horse treats. For more information and to download coupons, visit http://trainwithtrust.mannapro.com/.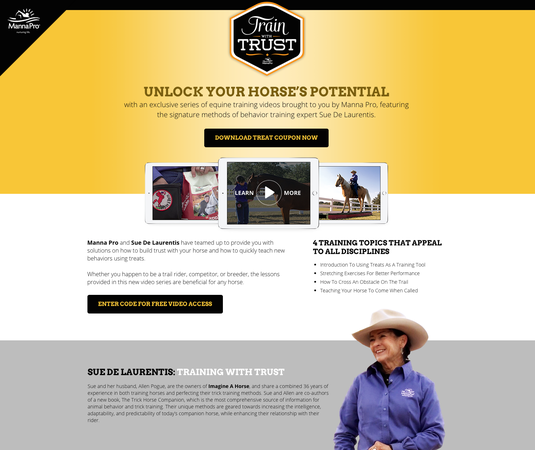 About Manna Pro Products
Manna Pro Products, LLC, produces high-quality animal nutrition and care products for a broad range of animals. Its largest group of products is associated with horses, but the company also produces feed for backyard poultry and goats, rabbits, cattle, pigs, and companion animals. Manna Pro's product lines primarily serve the "lifestyle farmer" market – people who own acreage with farm animals, and operate their farms as a hobby rather than a business. The company's flagship product – Calf-Manna® – has been a staple of animal owners for more than 80 years.  For more information, visit www.mannapro.com. 
About Sue De Laurentis
Sue and her husband, Allen Pogue, are the owners of Imagine A Horse, and share a combined 36 years of experience in both training horses and perfecting their trick training methods. Sue and Allen are co-authors of a new book, The Trick Horse Companion, which is the most comprehensive source of information for animal behavior and trick training. Their unique methods are geared towards increasing the intelligence, adaptability, and predictability of today's companion horse, while enhancing their relationship with their rider. http://www.imagineahorse.com/