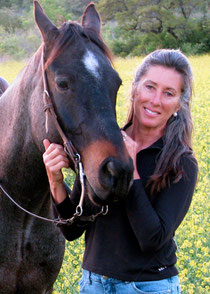 August 12, 2014
The Trick Horse Companion
Allen Pogue and Sue De Laurentius are pleased to announce the relese of their latest project, their new book entitled "The Trick Horse Companion".
This 242 page hard cover book features over 300 full color photographs that share the step-by-step "enlightened trick trainin' process the authors have made famous through their many clinics and dvds.
Now you can learn with some of the best in the business at yours and your horses' own pace in this accessible guide.
Recent reviews
Winnie Scott from Winsong Farm says:
To me, one of the greatest gifts this book gives is a glimpse into what horses and humans can do together. Allen and Sue with their horses personify: "If you can dream it, you can do it" AND, "Find the magic within you". Their book answers questions I haven't thought of. It gives me the tools to teach things I never would have attempted. Allen and Sue, THANK YOU for creating such a GREAT book.
Lissa Burnett-Rabon of Walk With Horses Writes:
I have always thought my Quarter Horse, Minnow and I had a great relationship. He was willing to do what I asked whether it was cutting, stock horse or competitive trail and I was willing to learn how to be a better rider. It wasn't until I worked with him as a partner teaching him simple tricks like the pedestal and obeisance, that I felt our connection become deeper and more profound. I think he understands that I am interested in real communication and by the results...I think he has become interested in that as well.
Icing on the cake was his new awareness of where his feet were and where his body was in space. This awareness led to better scores and a new trust between us when approaching new situations. The Smile Trick is popular with coaching clients and the face of students when a therapy horse steps up on the pedestal at the student's cue, makes everyone who is a witness, light up.
This well written, easy to understand book with great photographs that demonstrate the stages of tricks being taught, is like an encyclopedia of how to take your relationship with your horse to the next level. Each time I have had a question, I went to the book, knowing it would be addressed in there and was never disappointed. This is a valuable addition to any horseman's library, whatever discipline.