AHP Recognizes Train With Trust Video
Winners in the AHP 2016 Awards
A BIG Deal!
Last week in central Florida the members of American Horse Publications (AHP) got together to celebrate excellence throughout the world of equine-related media. Top notch examples from print and digital content in 65 categories, from magazine articles, books, promotions and videos were judged by seasoned luminaries from various editorial professions. In the world of information creation for people who work and play with horses this is the creme de la creme of achievement. AHP head Christine Brune said, "Held since 1974, the AHP annual contest provides members with an opportunity to be recognized for excellence in equine publishing. This year's contest for material published in 2015 drew entries from 98 members and 770 total entries."

Well, guess what! The collaboration between the Imagine A Horse team and Manna Pro, a blog and video series entitled "Train With Trust", had an entry and won third place in its division called "Equine Related Brand Marketing Video".  The write up said: "…a great job of consistent branding. The content was well written and graphics were professional. This video was at a high level and very engaging with the viewer."
"Stretching Exercises for Better Performance" is a video featuring Sue and Lady C. Watch it on the "Train With Trust" section on the Manna Pro site in this link. It's the second video from the left. (Or simply click on the embedded video below)
"We could not have been more delighted when we got the news!" says Sue De Laurentis, who's currently traveling with friends and horses in Arizona. Fittingly for a horsewoman who practices what she preaches, she got word by text while out on the trail.
The Imagine A Horse team has been working with

 Manna Pro on this national campaign about treats as a training tool for several years. Sue believes, "
Horses can be keenly motivated by treats and Manna Pro horse treats are an economical and nutritious choice." 
This new success makes an already great experience even better!
---
Free streaming training videos are available at: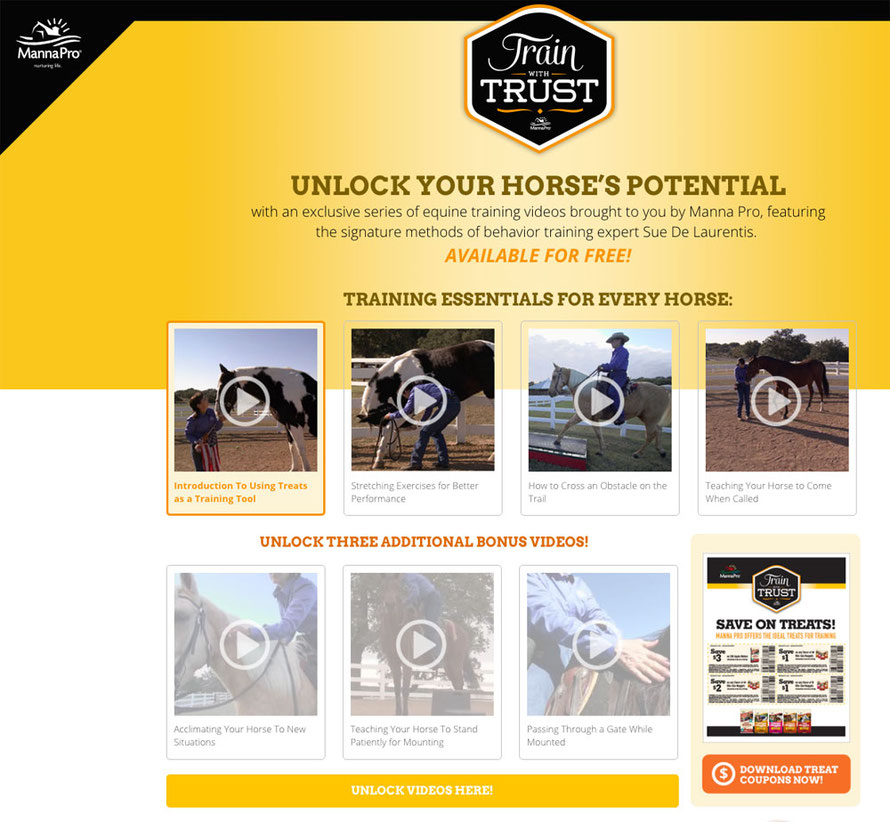 tagPlaceholder
Tags:
AHP

,

AmericanHorsePublications