Imagine A Horse put trust on a pedestal and taught owners from across America how to do the same at Trick Horse Camp earlier this month with Imagine A Horse co-founders, master trick trainers, and authors of the new The Trick Horse Companion, Sue De Laurentis and Allen Pogue of Red Horse Ranch in Dripping Springs, outside Austin, Texas.
Famous Imagine A Horse success stories include 'equine graduate' Lady C, the mare ridden by country recording artist Sheryl Crow into the Houston Livestock Show and Rodeo before her concert. "Lady C's foundational trick training gave her the courage to face 55,000 screaming fans, spotlights and a pyrotechnics show," said De Laurentis and Pogue, who have dedicated their lives to helping people and horses more fully trust one another.
"It was so fun working with fellow equestrians from all over the US and from a variety of backgrounds," said Johnny Robb, a grand prix dressage rider from Florida who attended the camp, " I expected it to be fun, but it was so much more meaningful than I expected. Developing the relationship with the horses and watching the horses that were new to trick training become confident and engaged in the activities was awesome." Husband and wife camp attendees, Ron and Sandra Hahn were home only a few days when Ron built a pedestal using the guidelines provided at camp and within days they were successfully training their horses at their farm in Oregon. Vicki Yeomans and her friend Terri Davis from Texas brought their horses to camp with them and got to start their training with hands-on help from Sue and Allen. "The different disciplines and perspectives brought additional depth to the material. Everyone was so supportive, helpful and kind. This was without a doubt the best clinic I have attended," Yeomans exclaimed. And Ginger Sampson from Tennessee wowed the entire class when she took to the liberty trainings ring for the first time and looked like a pro. 
"We love horses, they're our life. We've witnessed how Imagine A Horse methods improve the lives of horses and humans. We are aware that many horse owners want more than traditional training. They want a closer relationship with their horses, based on activities that are interesting to their horse. We help make that happen. So much training is based on tradition and popularity - neither of which necessarily lend themselves to modern psychology or behavior modification. Our Trick Horse Camps are calibrated toward each horse individually and an owner can go home with new appreciation for what is possible, having walked through all the steps towards what we call The Ultimate Companion Horse", De Laurentis explained. 
Trick Horse Camp offers such unexpected benefits as Pedestal Training: "All species are trained using a 'place' or 'mark' except, traditionally, the horse. In ground training, a pedestal gives a horse somewhere to go, rather than act on flight instinct and run.
"Quiet feet equal a focused mind. Pedestal work also helps develop physical dexterity while increasing self-confidence and boldness. Horses love to stand on pedestals because it makes them taller than other horses, which increases confidence. Standing with the front feet on a pedestal gets weight off the front end and helps a horse to stretch and relax his back, which makes him feel good. A relaxed and confident horse is in a mindset to learn. 
"Pedestal variations can strengthen and shape a horse's body in beneficial, yoga-like stances. If a horse has all four feet closely together on a square pedestal he is using his body in a new way by stretching his topline and tightening his abdominals. Pedestal training affects horses positively physically, mentally and emotionally."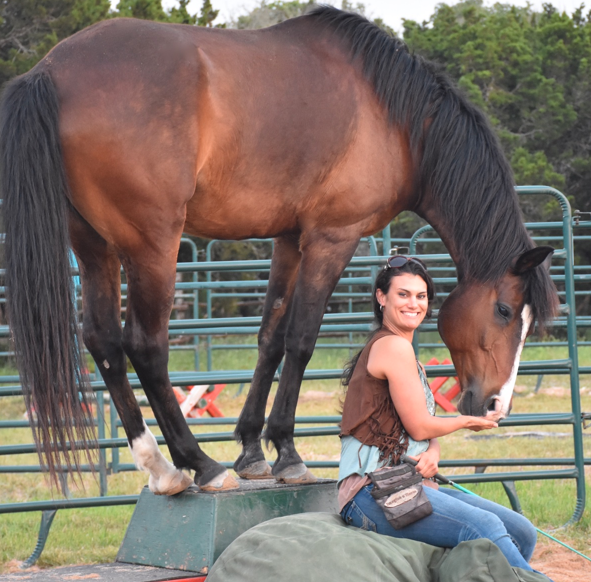 Positive training leads to positive performance. Allen's three-horse liberty performance has opened expositions, and their Red Horse Ranch Arabian stallion, Elk Hasan, is mascot for Austin's arena football team. "Three of our horses performed at the Sound Horse Conference in Kentucky. We've trained many horses for performers but most have confidentiality agreements so we're not at liberty to use their names." 

One name they are happy to mention is sponsor Manna Pro, whose healthy treats incentive learning. "Treats have always been an important part of training at Imagine A Horse, and can be used effectively and responsibly while preserving a horse's good manners." Since 2014 Imagine A Horse has partnered with Manna Pro on a national campaign about treats as a training tool called, 'Train With Trust.' Free downloadable training videos are available at http://trainwithtrust.mannapro.com. "Horses can be highly motivated by treats and Manna Pro treats are economical and nutritionally developed to complement any diet."

Enrollment is open now for the next Imagine A Horse Trick Horse Camp planned for October, followed in November by the first-ever Miniature Horse Trick Horse Camp. Besides learning the secrets to trick training and developing strong relationships with their horses, campers can expect an experience filled with true Texas hospitality and scrumptious, healthy home-cooked southern meals (and take-home recipes).
Stay in touch! Join the Imagine A Horse Mailing list to be among the first to learn about events, tips and new releases!