6 Reasons to Study with the Masters
Do it Yourself horse training is a wonderful thing. It can deepen the positive relationship you have with your horse and capitalizes on the time you have available to spend with him in meaningful, fun ways.
It's important to start off on the right foot, however, and spending some time with master trainers can help you maximize your own efforts while providing you with a much deeper understanding of why your responds the way he does to your activities.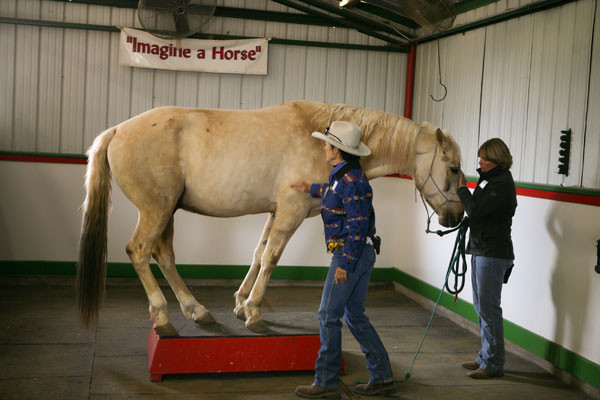 In no particular Order, Seven Reasons:
1. Getting Your Timing Right
Timing your asks and rewards is a crucial aspect of the successes you'll create with your equines. Observing someone who has developed a deep understanding of how a horse thinks can go a very long way in helping you start to develop your own timing. Books, videos and articles are all great ways to pass along information, but being in the presence of someone working with you and one of your horses can bring you a lot closer to the "Aha!" moments we all need to get our timing right.

2. Getting Your Cues Right
Actually having to practice your cues in the presence of someone who can help tweak them with you starts to build not just intellectual memory but muscle memory as well. There's something about practicing in front of someone who knows exactly what you're trying to accomplish that elevates your own tries and eventual successes. As you're quickly corrected you don't have a chance to develop any 'bad' habits and can push through confusion quickly until you're confident with your activities.

3. Learning How to Reward Your Horse
One of the very important aspects of positive reinforcement training is coming to understand how the student horse's responsive actually gain strength through a protocol that starts limiting rewards. This is counter intuitive for most of us! Subjects actually work harder for rewards that offered less and less often.
As corollary to this is the replacing of food rewards with verbal rewards or a rub or a gentle pat. Master Trainers know how to 'read' a horse and adjust his rewards based on his own abilities and successes.
4. Developing an Eye for the Try
This is the truly subtle stuff, especially with beginner horse trainers. Sometimes a student horse's try may be all but invisible to the untrained eye. Maybe he only shifted his attention to the pedestal you're hoping he'll soon leap atop! Maybe he only softened his eye in that general direction. Sue and Allen can show you what to look for. This is one of those important aspects of hands-on interaction that other types of knowledge acquisition just can't touch.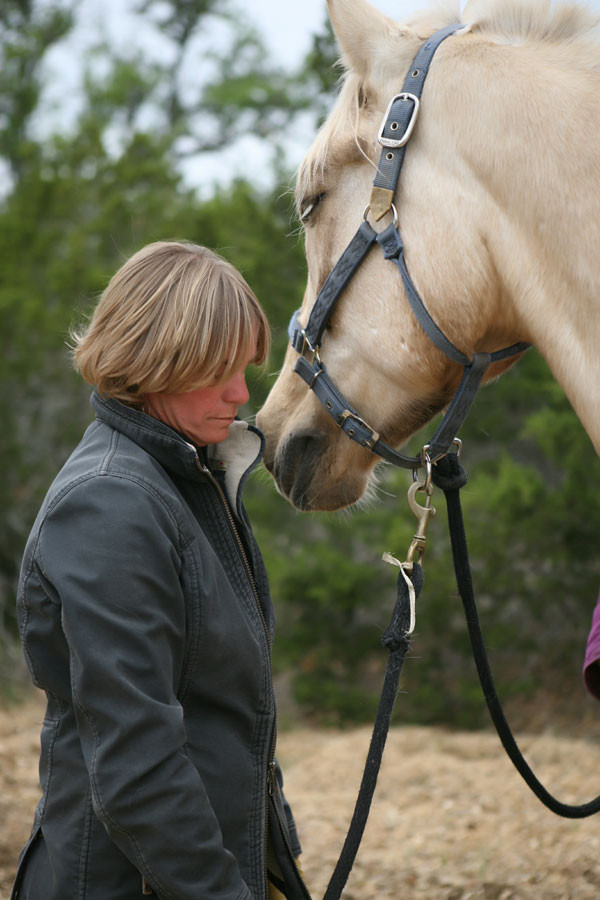 5. Building Confidence
Often what happens quickly with proper tutelage is you discover you have more aptitude than you imagined and so does your horse. Beginners and newbies often show a hesitancy to their training that under the Master's watchful eye you can blow right past. In other words you are likely a much better trainer than you think you are and your horse is likely a better student too!
6. Knowing When to Quit
Finally, with practice and developing your own understanding of equine behavior and aptitude with guidance you can learn to observe when your horse has finished for the moment; when he's ready for a break. All beings who are learning benefit from breaks in the teaching process that give them time to absorb the new information.
7. Getting to Practice with Other Horses!
Finally working with Sue and Allen at their Red Horse Ranch can give you access to a variety of equines with varied abilities and education beyond that which your own horse can offer. Working with other aptitudes, personalities and strengths can help you up your game and is a whole lot of fun to boot!