Sue Chats About Her Professional Life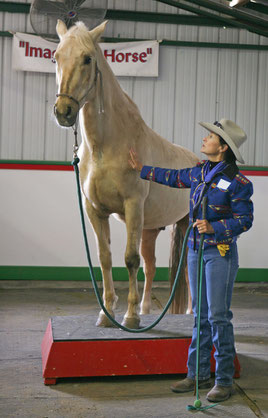 Professional Trick Horse Trainer
Suzanne De Laurentius shares some of her insights
How did you get started with horses?
My parents were cattle ranchers and put me on a horse when I was just under two years old. I've been there ever since. I've been training saddle horses for 24 years and trick horses for 14.
Why did you begin to specialize in training horses to do tricks?
In 2001 I met Allen and was totally amazed by the method he had developed to train what we came to call "enlightened trick horse training." His horses were amazing and he could call them each out by name and ask them each to do a separate move and they did it! That did it for me too and over the next few years we over a dozen DVD titles so others could have the same great results without making the same mistakes. Basically when I saw how the entire method transformed the horses, I was completely into it.
What sets your training methods apart from the rest?
Every detail of Imagine A Horse is calculated for the horse's mental, emotional and physical well being. If we make learning fun, we can help our horses become confident and its easier for a confident horse to be obedient.
What is your favorite part about training horses
Watching a horse wake up mentally and begin to love learning.
What is your overarching Mission with this work?
Make domestic life for horses better through two way communication skills. 
What makes the best candidate for a trick horse/equine?
Horses that are the "houdinis" of the horse world. Those that use objects to try to manipulate their world such as picking up feed pans or playing tug of war with their friends. Having said that, trick horse training can bring a new spark to a horse that has been dulled by too much repetitive work and can even be used as remedial training for particular bad habits because it brings real creative structure to their world.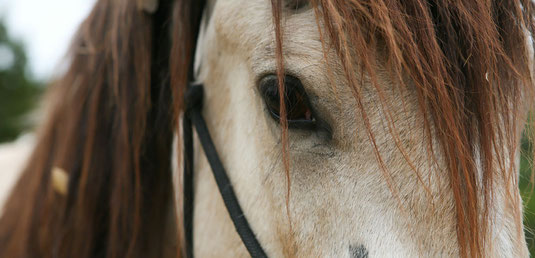 Who makes the best candidate for a trick horse trainer?
A fascinating facet of our training is that because we teach folks how to initiate a diminishing reward system with their horses, it helps to train the humans! We teach the value of timing, different types of cues and also concepts...applied to humans first and then to training their horses. The diminishing reward system means that in the beginning we will use food treats liberally and then gradually use more praise and verbal encouragement. So...a human who can live in "the moment," who is patient and is really prepared to "listen" to their horse and learn his individual style, experiences quicker improvement which is a valuable lesson - rewarded by success -  for any of us to learn.
What do you like best about performing with your horses?
Being able to inspire others to look at their horses with a new appreciation for what may be possible with their own. Folks usually have no idea that horses can learn the things we teach until they actually see ours performing! It helps people develop an understanding of how much fun they can have with their companion horses even when they are not mounted!
What question did I not ask that I should have?
Isn't tricks training just about silly pet tricks? 
Answer is NO.....each detail of IAH is just one tiny piece of an entire process of higher education. Picture how finding the corner pieces of a a jig saw puzzle helps to form the entire picture...that's trick horse training. It's about creating the "Ultimate Companion Horse", a horse that is confident in his interaction with humans, can think through challenges and best of all...never has to be desensitized! A horse that trusts me enough to go up a climbing wall will take me ANYWHERE I ask him to go. The result is a more intelligent, adaptable and dependable horse.